YourFleece offers shipping through FedEx and the USPS, from standard speeds to overnight. We usually ship orders out same or next business day (1-2 business days in November and December), and can always accomodate anyone with a special request on immediate or alternative shipping needs.

United States Postal Service - if you pay for USPS Priority, we will ship your order the same day or next, and it will arrive in 1, 2 or 3 business days depending on your location. Note that the USPS does not guarantee those times, so though they are typically timely, there is a chance the package will arrive after the 1-3 day window we pay for. The map below shows the time frame depending on where you're located: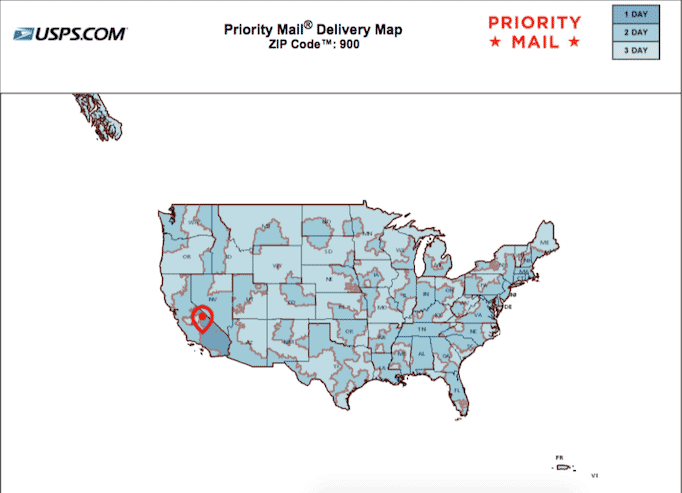 Federal Express: FedEx offers Overnight (guaranteed the next business day), 2-Day (guranteed in 2 business days), Express Saver (guaranteed in 3 business days), and Ground/Home Delivery (the map below gives exact times for that, but it's anywhere from 1-5 business days). These times are guaranteed, so you can plan based on them with no concerns: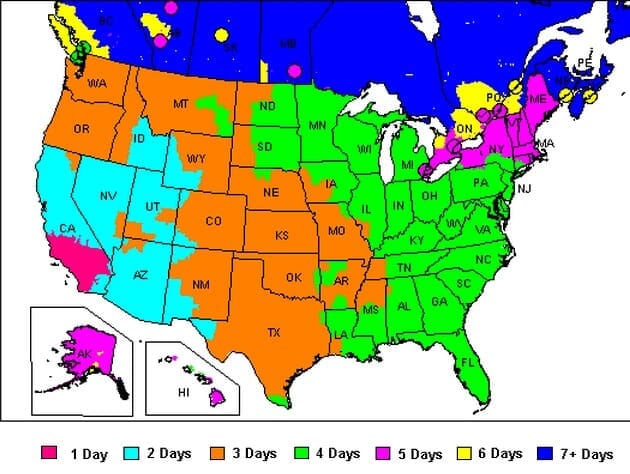 Standard Shipping and Free Shipping- if you pay the "Standard Shipping" or choose "Free Shipping," we will send your order with whichever method is most cost effective for us. We know that shipping costs are very important, so we always offer these low cost options. If you have any questions about exactly how long this method will take based on your location, just contact us and we'll give you more detailed info!
Alaska, Hawaii, Puerto Rico- Our website isn't set up to have different rules to ship outside the lower 48, and sometimes it doesn't require any different treatment than other orders. Often however it can be very expensive and we may have to contact you after placing an order to negotiate the shipping rate. You may also contact us prior to placing an order to get an idea of the true cost.
*Returns*
Not happy with your order for any reason? Send it back (in tact) and get a full refund for the cost of the fabric minus the original shipping costs we paid to ship, over what you paid, no questions asked! Of course if it was our mistake you will not be out of pocket anything and we'll replace it or refund you, your choice. If you're returning something due to changing your mind or something along those lines, we cannot cover the shipping. Please contact us if you'd like to return something and we'll give you simple instructions!